I've been tagged by
Rahime
. First time and I'm not sure what to write so will stall a little bit longer before I post "Five Secrets about Me".
No work on Fridays is a good thing. I'm still in my pajamas and I've been knitting and catching up on my podcasts. Both of the One Skein Baby Hats made from Artful Yarns Candy are off the needles. I just need to seam them and then I'll take some pictures. What a fun project. The yarn varies in both texture and color and the finished result is very fabric like. Fiber content is mostly cotton with a smidge of acrylic and a little bit of nylon and elastic. And best of all the finished product can be washed in the washing machine on the gentle cycle. Never mind that I have no recepient in mind for these. They were fun to make and when I need a small baby gift I'm ready.
The yarn for my
Central Park Hoodie
arrived today from Webs (all 16 balls!) and I've already made a swatch. I love the color and can't wait to begin on the sweater. The picture you are seeing is pre-washing and I'm anxiously waiting for my swatch to dry so I can double check my needle size and get started. The yarn is not scratchy which was a concern and I'm sure it will be softer after washing so should result in a very comfortable sweater. The scanned image looks pretty good to me in terms of color reproduction - background color is a light blue-grey with flecks of brown, white, shades of gray, and violet blue. The cables should look great.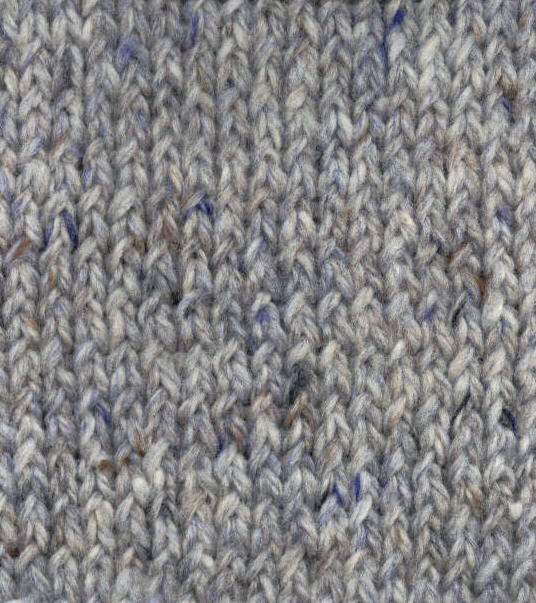 Classic Elite has some other patterns for this yarn which I really like. For example,
Cable Pullover from Tweed Four
If CPH goes well I may have to visit WEBS again and purchase more yarn before it is all gone.
My Interweave Knits spring issue arrived in yesterday's mail. Wasn't expecting it until later. I'm loving Stefanie Japel's
Cable Down Raglan Sweater
.
and
Kate Gilbert's
Slanted Neck Pullover
but am not sure my OCD personality could adjust to the asymmetrical neckline.The bamboo yarns look interesting.
The bathroom is almost complete. DH has been working on various tasks diligently every evening after work including painting the linen closet while it is empty. The new satin nickel doorknob arrived very quickly and has already been installed. It looks wonderful. We're still lacking the window shades and the new door hinges and I need to hang the pictures and decide about the shower curtain but we're almost there.