As I mentioned earlier, I decided to start a small project on my train ride to and from NYC and did indeed start and complete most of the first sock in the bouncy train car. At home I decided to continue with the first sock and finish the second prior to returning to CPH. My sock skills are tenuous and I'm still looking at the step by step instructions to graft toes so I didn't want to leave this project in an unfinished state. Both socks are now complete and guiltily I must admit I've also cast on for a second pair of these socks from the Bright Spring colorway but I've also unraveled and rewound all the CPH yarn and fully intend to start knitting on it again tomorrow evening. I'm only a little more than an inch away from the armhole so should be able to complete the body this week. At least that's my goal.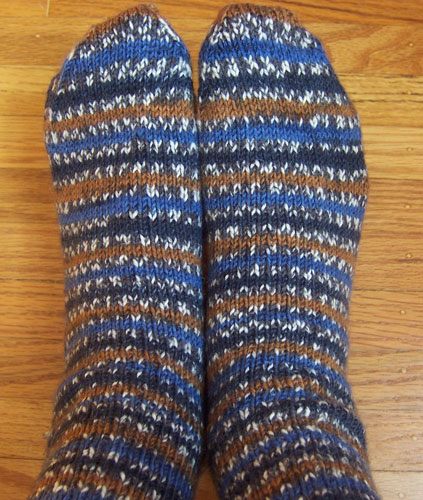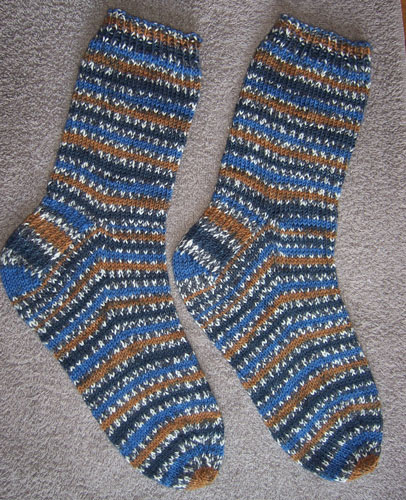 Pattern:
Lion Brand Magic Stripes Basic Sock
Needles:
Knitpicks DPN Size 3
Yarn:
Lion Brand Magic Stripes Brown Blue Pattern (75% wool, 25% nylon - machine wash and dry, sport weight)
Comments:
Socks fit well. Leg is only 6 inches to the heel flap and I had only a few yards of yarn remaining so not for those who like tall socks or with bigger feet than my women's 9.5. I didn't initially like the feel of the yarn (something like plastic string) but I got used to it and the yarn softened up considerably after washing. I expect the socks to be durable. I'll be making these again as I have three more skeins of this yarn but don't expect to buy any more when this is knit up. There are too many other yarns out there I want to try.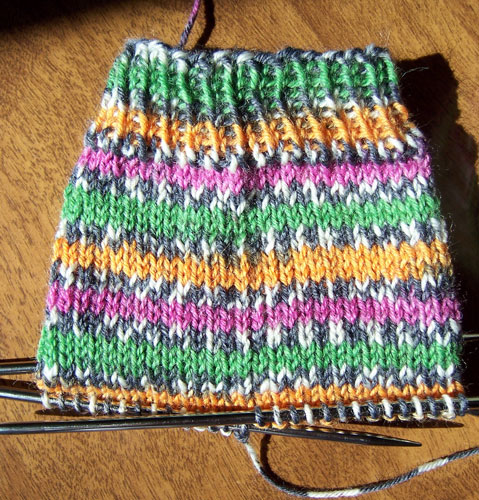 We had wonderful weather for our trip to NYC and were able to enjoy basking in the sun in Central Park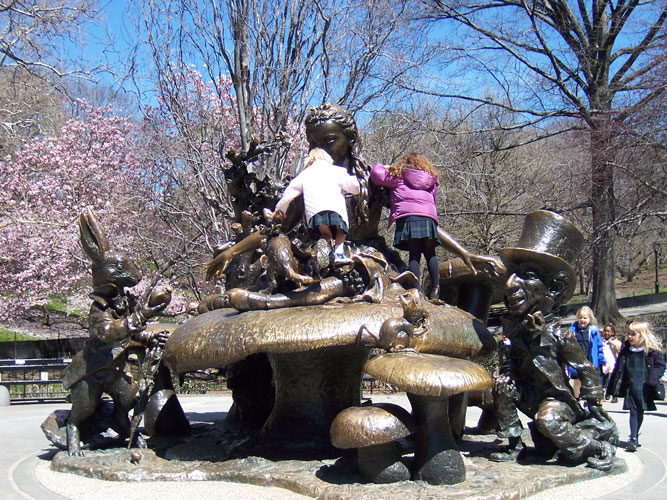 and walking the Brooklyn Bridge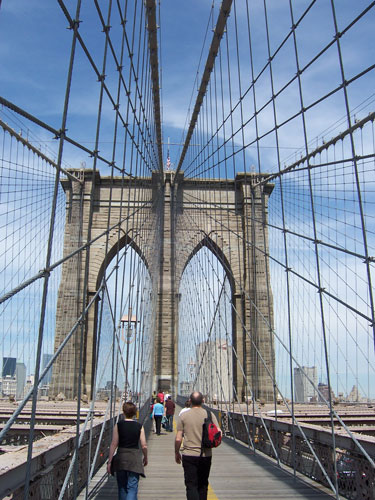 which has been on my life list for a long time. The Brooklyn Bridge is a major civil engineering achievement and has a very interesting history. David McCullough's
The Great Bridge
tells the story much better than I could ever hope and I highly recommend it for those who want to know more. I have great admiration for the Roebling engineers, especially Emily, so it was exciting to finally see the bridge up close and personal. Walkers and bicyclists are on a wooden platform at the center of the bridge above the car traffic (3 lanes each direction) so the views are amazing.
We ate wonderful food including an excellent lunch/dinner midafternoon meal of Turkish food at
Dervish
on 47th street where DH's
Cilek Soslu Firinda Armut
(Poached Pear dipped in crushed East Anatolian pistachios, served with cinnamon flavored strawberry couli) was so beautiful he photographed it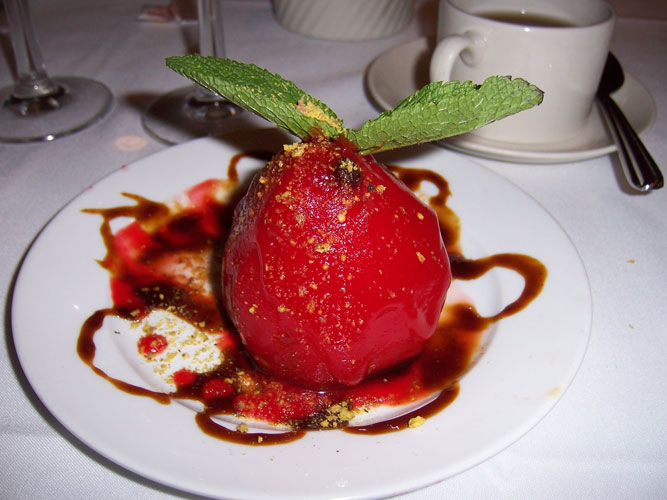 and cheese blintzes for dinner at Roxy's Deli prior to our show. We bought superb chocolate at Scharffen Berger and
Vere
and one skein of sock yarn, previously described. We saw Monty Python's Spamalot and visited the Radical Lace and Subversive Knitting exhibit at the Museum of Arts and Design where we were also able to attend a lecture by one of the artists,
Janet Echelman
. Add in a pedicab tour of Central Park with our intrepid Turkish guide and a choral concert by the Brockport school choruses in St. Patrick's Cathedral and we had a very satisfying weekend.