I am not yet accomplished enough to do complicated knitting in a moving vehicle so found the Orange Bliss scarf perfect for last weekend's journey to the Philadelphia area and back. This was my second time knitting this scarf and this picture clearly shows the difference between my early twisted knit stitches (on the right) and my new and improved straight knit stitches (on the left). I like both versions and am surprised that the twisted version did not result in a shorter scarf. Both are going into the Dulaan box which I hope to ship shortly. I'm dithering about making one more pair of Rowan Plaid mittens but most probably will not.
Yesterday I learned how to make I cord. As I write, my Karaoke bag and cord are agitating in my washing machine. (It was not a problem finding laundry to accompany them.) Everything I've read says it may take multiple washes before sufficient felting occurs. I'm a little uncertain as to how I will know if it is done. Is it like pornography? Will I know it when I see it? I hope so. Southwest Trading Company calls the color Autumn but it looks like summer to me and I'm looking forward to the finished bag.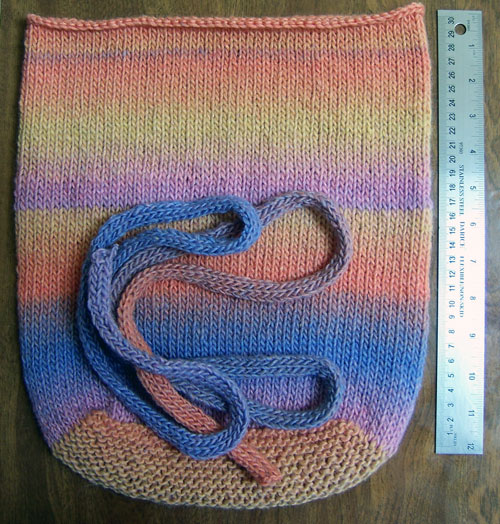 Although the instructions for the bag specified 3 skeins of yarn, I used exactly 2 so have an additional skein of Karaoke with no definite project. I suppose I could make
these
, but already have a pair of fingerless gloves.
CPH is still residing on my dining room table. It was tempting to ignore my error but I couldn't have done it in a more obvious place than the center front neck opening. Shouldn't take long to frog the extra cable repeat and reknit the shoulder.