I'll be celebrating my birthday on Thursday this week but I've already received some gifts and it looks like they will be spread out over several days. DD#2 phoned last evening to tell me her gift won't be in the mail until the weekend.
Yesterday's mail had four packages addressed to me, one from England. Fran, who also received markers from me, sent me these beauties. I particularly like the small "hand made" charm and the rainbow colors.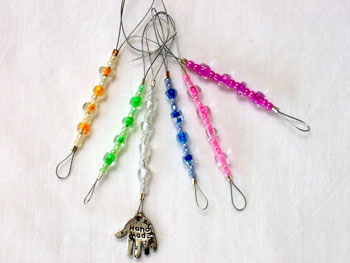 I'm still waiting to hear if Fran has received the markers I mailed to her. Hope they did not go astray between here and Surrey.
The yarn, ordered from The Loopy Ewe, for the Victorian Lace Socks is also here. Ordered on Saturday midday and delivered to me on Monday. Can't beat that for customer service. I also ordered this sock pattern. Plus Sheri sent all kinds of extra goodies. I see now why so many bloggers and podcasters love The Loopy Ewe. Plan to swatch this yarn today.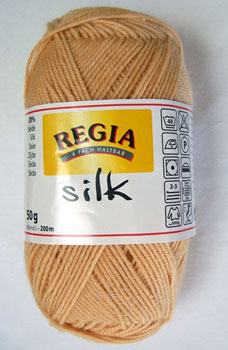 The next package contained gifts from DD#1 who said to open immediately so I did. Two skeins of sock yarn (Opal Cotton Hundertwasser in blues and greens and Mountain Colors Bearfoot Tamarack - very autumnal colors which I probably would not have selected myself but love) and a bottle of Eucalan.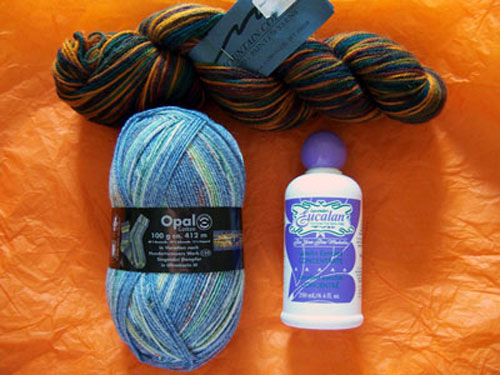 The last package contained a wrapped gift from DSister #2 so I restrained myself and decided to save this one to open on "the day". I also received a birthday check from my father which is burning a hole in my pocket. Think I need to visit my LYS or order some of those books on my Amazon wish list.