At long last the Starry Cherry Tree Hill glitter alpaca scarf is off the needles. No pictures until I block it (I'm hoping a blocking board will be one of my birthday gifts later this week. )
I'm into the heel flap on the first Hedera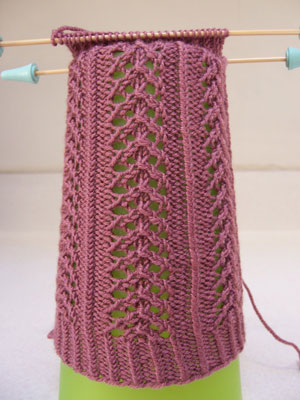 and I've knit 2 skeins of the Patons Chunky Tweed into a Yarn Harlot One Row Handspun Scarf for the Red Scarf Project.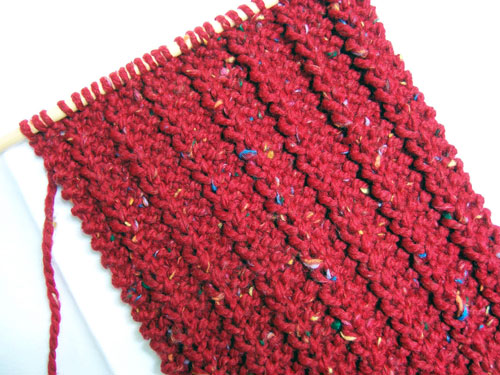 Looks like another 1/2 skein to get the requisite length. This is an ingenious pattern which only requires that one remember to knit two, knit one through the back loop and purl one. Perfect for a lazy summer day when I don't want to think too hard about my knitting although it is getting long enough to be rather warm on my lap.

I've also joined the Yahoo Six Sock Knitalong and am waiting for yarn to arrive so I can begin the current bimonthly sock, Victorian Lace Socks.

Many years ago when I remodeled and expanded my kitchen a good friend gave me a cutting from her Dieffenbachia plant. My friend is no longer with us having lost her battle with cancer but this plant and a lovely tea cup and saucer she gave me are reminders of her. Over time the plant grows too tall and becomes pot bound and I take a new leaf cutting and start all over again. Dieffenbachias are prized for their beautiful leaves. Imagine my surprise when I saw this.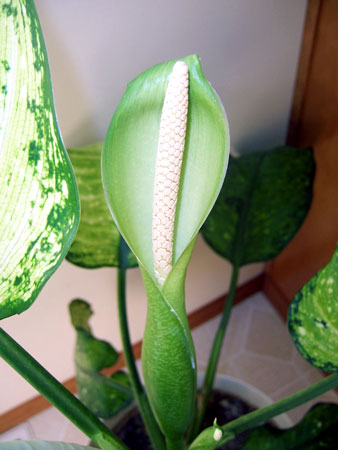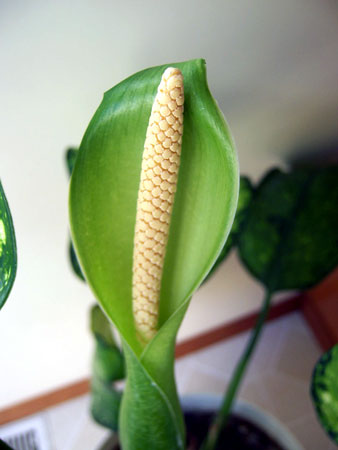 My Google research informs me that blooms are a rare occurence and I feel fortunate to have seen them at least once on my plant. And no, there is no fragrance.