I've been happily alternating knitting projects....2 hours in the morning on the sweater, 2 hours in the evening on the scarf, etc. This morning it was time to give the second Bright Spring sock some attention. I was so proud of the first sock as I'm sure you could tell from my close-up pictures. The second one is not going to be so perfect and I'm annoyed.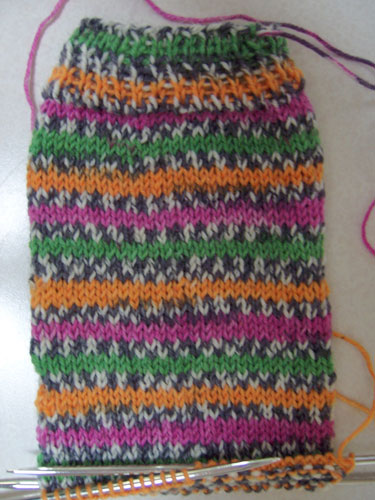 Midway down the leg I encountered a knot and not only a knot but a knot which had not taken the color pattern into account. Orange connected to green so I untied the knot and wasted enough yarn to match as best I was able. But now I am concerned that I will run out of yarn before finishing the foot. Plus, I'm thinking the woven-in ends will make the sock lumpy. Curse you Lion Brand!
I've had second thoughts about the next socks. This beauty arrived in my mailbox today and turned my head.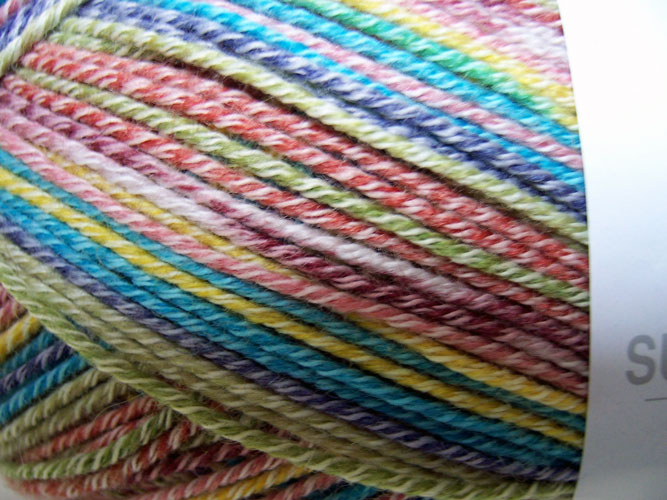 Online SuperSocke from the Beach collection in the Pistachio Gelato colorway. The yarn is a cotton/wool/polyamid blend which should be perfect for summer. Although summer in Rochester has been varying between 90 and 65 degree days this week I'm confident we will see the sun again soon. I know from reading their blogs that
Hilary
and
Rahime
have had some issues with cotton socks. Anything I should know ladies, or anyone else reading this blog, before I attempt my first cotton blend socks?