I'm still trying to find a balance between blogging,
Ravelry
, and actual knitting so there is content when I do blog. At this point my stash is all inventoried on
Ravelry
. The
obsessive
photographing of every skein is now complete until I buy again. Most of my projects have been documented and the knitting needle inventory is still on the "to do list". I won't be photographing them!
Daughter #2 created a patio knitting kit for my birthday gift - a sun hat which I wear faithfully (one basal cell carcinoma on my face is enough ) and a small tote bag which is perfect for my smaller projects. Both items are reversible and both have my favorite colors. Isn't she the clever one?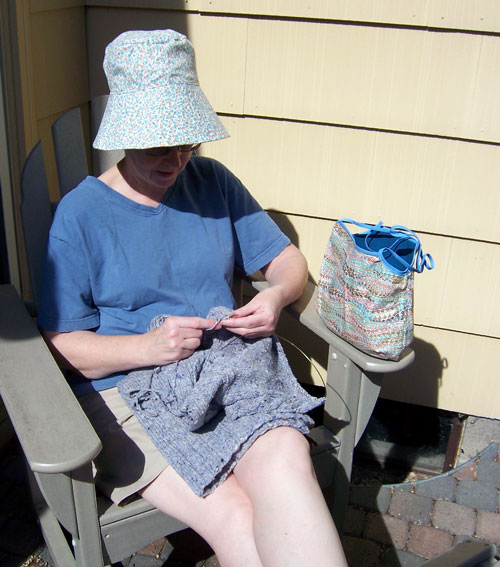 I've not written about Central Park
Hoodie
for some time because I'm tired of making excuses. I'm happy to report now that progress has
occured
. The body and sleeves are complete and blocked. The shoulder seams are complete and the hood is done. I stalled for a short time waiting on the smaller needle Addi Turbos but I'm poised for action now. Button bands, hood and sleeve seaming, and buttons are all I need to do. I've been able to try the sweater on and I'm thrilled with the fit so far. Crossing my fingers that the sleeves fit as well since some folks had difficulty with them being too tight.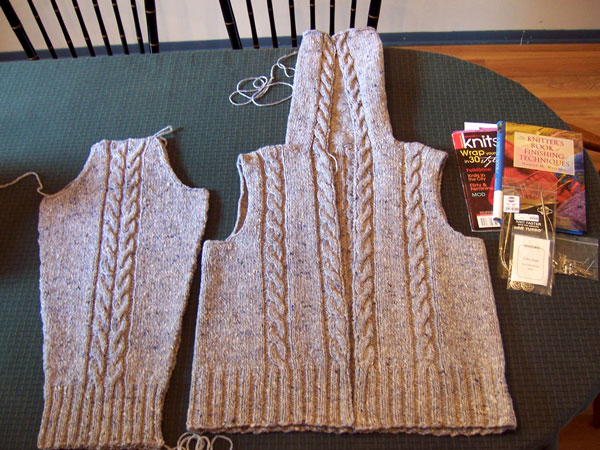 I've completed one Victorian Lace Sock and I'm pleased with the work although I do have some small mistakes in the eyelets between the mini-melons. This project has been a stretch for me with the complicated lace pattern and the short row toe shaping. Plus I did a 3 needles bind off for the first time. Sock #2 is in progress and I'm hoping to finish this week. The silk yarn is very soft but somewhat
splitty
which has added to the challenge.